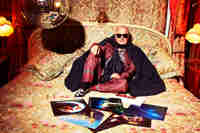 Giorgio Moroder - Oscar winning Magician from South Tyrol
28. 08.2020
When on your travels you hear hits on the radio from movies like Flashdance, The NeverEnding Story or Midnight Express, did you know that they were born in the mind of one of the most famous Alpine natives?
The composer Giorgio Moroder celebrated his 80th birthday in April this year. He has been living abroad in Los Angeles for a long time, but his first steps were witnessed by the mountain peaks above the Val Gardena valley in South Tyrol, in the town of Ortisei, to which he often likes to return. The name of Moroder is well known here. The nephew of the famous composer runs one of the most beautiful hotels in the area – 5-star Montchalet. But his uncle Giorgio did not live in Ortisei for long. He headed for Germany where he experienced his first musical successes. At first he went to Aachen, to a musical club named Scotch club, where he played the guitar in various pop bands, before going on to Berlin. There his star as a popular songwriter began to rise, accompanied by the unmistakable synthesiser sound of his keyboards. His songs composed for famous performers have reached the top of the charts since the 1970s. Among them, hits like the Son of My Father by Chickory Tip and I Feel Love by Donna Summer literally shine. Later, Moroder was able to apply his talents to another sphere. His music began to accompany the plots of many significant movies and was noticed by audiences as well as by jurors of famous awards. He won his first Oscar in 1979 for the main musical theme of the movie, Midnight Express. He was awarded other statuettes for the theme songs of Flashdance and Top Gun. We must not omit the Golden Globes and, among other awards, undoubtedly the most valuable for a musician – the Grammy Award. But his music is not just for movies. Moroder's unmistakable style is also carried by the official songs of the 1990 World Cup in Italy and the Olympic Games in Los Angeles in 1984, Seoul in 1988 and Beijing in 2008.
However, the discography of this Alpine native is far from over. He created the Racer theme for Google company and is remixing his old songs. He can be seen at the DJ podium, and he also likes to collaborate with stars of contemporary pop music. All that remains is to ask what lies behind the vitality of Giorgio Moroder? Could it be the mountainous landscape and clean Alpine air of his birthplace?